---
Exterior Signage
Property ownership, whether it's multifamily housing or commercial property, is one of the greatest investments an individual or corporation can make. But it is not without its requirements, and one of the most important additions to add to your property is building management signs.
There are many rules for signs in NY, with departments such as HPD (Housing Preservation and Development) requiring specific HPD signs in each and every building, in order to make sure those in the building have rapid access to information, as well as many other rules for ADA signs and other building management signs in NYC.
Building & HPD Signs in Brooklyn
Whether you're looking for HPD signs specifically, or some other type of building management signs, Brooklyn Signs is here to help. We offer a wide range of building signs, complete with the specific information that is required in each and every building.
We can create all of the building management signs that you need for your property to be a safer place for employees, tenants, and customers, and also to make sure that it stays up to code.
We also have the ability to customize these signs in ways that still match the guidelines required by NYC law. Brooklyn Signs would be more than happy to help you design the perfect version of each sign for your property. We can also answer any questions you may have about these essential property management signs.
Contact Us for Building Management Signs Today
Depending on the type of property you own, there may be a number of different signs you need. At Brooklyn Signs, we carry all those required by the HPD and NYC Department of Buildings. These include:
---
No Parking Signs
These simple signs help make it clear who is able to park at your property and who is not. They are an important sign for both building owners and businesses, clearly marketing the areas that are and are not available for parking.
No Trespassing Signs
Another important safety sign, the No Trespassing sign is a building management sign that is critical for ensuring that those that are not allowed on your property know that you are watching for them.
Boiler Room Signs
HPD requires that you post the name and location of each person with a key to the boiler room, which both needs to stay protected from unwanted visitors, and available in the event of an emergency.
OSHA Signs
There are many different types of mandatory OHSA signs used in building management. Set forth by the Occupational Safety and Health Administration, these signs are placed in many different areas of the building in order to keep workers and passerby safe.
---
Local Law #16
Local law 16 signs are signs that indicate floor information to visitors, with a "You are here" and a direction to the stairs and elevator. They are used for fire safety and need to be made a very specific way to comply with NYC guidelines.
Lobby Signs
When someone enters your lobby, you want them to know immediately where to go and what to do. That's what lobby signs provide – direction and guidance that helps those entering your property know where they are and where they need to go.
Egress Map Signs
The egress map is like a floor layout, and has similar needs to the Local Law 16 signs. They are also an important type of building management sign, and are mandatory in many different types of buildings.
Floor Signs
Finally, those that travel around your building need to clearly see what floor they're on so that they know they left the elevator or stairs in the right place.
---
All of these signs come in either aluminum or acrylic, two materials that look nice and can hold their own against normal wear and tear and the type of weather we get here in Brooklyn.
We also recognize that you may have other reasons to post signs in, on, and around your building. If we don't have the exact kind you need available, we can carry out a custom design to create any number of building management signs.
The Premier Sign Company in NYC
Give us a call today at 718.252.7575 and find out why so many building owners in Brooklyn trust us with their signage needs. We also accommodate those who need quicker turnarounds. Finally, along with being the top Sign Maker in NY, we can even take care of sign installation if you need it.
Whether you're ready to order or have questions regarding HPD signs, building management signs, or sign requirements in NYC, the team at Brooklyn Signs is here to help. Give us a call today to get started.
Frequently asked questions and resources
What is Your Return Policy?
Your satisfaction is our goal. While we cannot offer returns on most custom products, we will accept any returns when it is our error, and we have created something outside of scope. Any time we have made an error, we will accept a return and discuss the idea of creating a new sign in its place. If you ever receive a broken sign, or you find that a sign isn't working properly (such as a neon sign), please let us know right away.
What Signs Are Best For Indoors?
All signs last longer when they are inside of your property. Some signs, like neon signs and foam board signs, are almost exclusively meant for indoors. However, metal signs, vinyl signs, aluminum signs, wood signs, and nearly all the signs listed above for outdoor signs also work great as indoor signs depending on your needs.
What Signs Are Best For Outdoors?
There are many different signs that are durable enough for the outdoors. Some of the best materials include wooden signs, aluminum signs, plastic signs, and PVC signs. Banners and vinyl signs can also be great outdoors, but may not be meant to provide you with a permanent sign solution as the weather can cause staining and wrinkles. Many types of lighted signs, such as channel letters and light box signs, are meant for the outdoors.
What Are "Wraps" and How Do They Work?
Wraps are pieces of thin, self-adhesive vinyl. They fit on flat surfaces, such as metal and glass. They can come in black and white or full color, and they pop from whatever surface they are affixed to. We create primarily vehicle wraps and window wraps, branding your property, cars, and trucks and making sure that they provide you with a rolling advertisement that is designed to last.
How Can I Care For My Signs So They Last Longer?
Every sign has its own unique needs. Small metal signs need only be wiped down when it is dusty, and can withstand heavy cleaners. Banners can only be cleaned with gentle soap and water, and can only be rolled up – never folded – or they will have permanent creases and possibly damage the lettering. It is best to ask us after you order your sign, and we'll gladly give you the information you need to continue to care for your sign.
What Are Sign Rentals?
Creating a custom sign takes time and effort. But not everyone needs a custom sign. Often we're contacted by those looking for everything from common and unique signs that they can use for a variety of projects – from filming movies to creating a theme at weddings, and more.
That's why we have many different sign rental options available. We have unique bathroom signs, "OPEN" signs, grand opening signs, adult signs (for themed events, plays, and movies) and more. We can't guarantee that we have every sign in stock, but we do have a huge selection of sign rentals to choose from. Contact us to find out If we have a sign available, and what it would cost to create the sign if we don't.
Do You Offer Design Services?
Yes. If you have an idea, but need someone to design the sign for you, we can help. We have expert design services with decades of expertise that can create beautiful custom signs that are specific to your needs. We also work with legal and regulatory signs, and can create signs that are easy to read and long lasting.
So much is invested these days in online and digital marketing. But New York City has intensely heavy foot traffic, vehicles, and public transportation – all of which houses potential customers. Digital marketing is great, but if you want to really attract people to your business, you need to capture their attention in person.
Brooklyn Signs is a business sign design company known for its creative outdoor signage in NYC. One of the first things we do when we talk to new businesses is explain to them that signs are one of the best possible options for receiving a return on investment. Not only are signs affordable, but they do a far better job than any other type of advertisement at getting people into your door.
We've compiled a list of some of the best possible outdoor signs available in New York City. These 15 signs only scratch the surface of the total types of signs available, but hopefully you can use them as inspiration for choosing your next sign design.
Outdoor and Exterior Building Signage in NYC
The following list is not in a particular order, because the "best" outdoor sign for a business depends almost entirely on what it is you're trying to market or get noticed. But the following are some of the top 15 different types of effective outdoor signage, and some tips and strategies on how to use them.




Channel letter signs are used by big companies like Starbucks and Subway, as they offer fantastic nighttime and daytime visibility over a larger space.





Able to light up the night, light box signs make graphics and text pop in the dark and are very popular as outdoor lighted building signs in NYC, while providing useful signage in the daytime.

Neon Signs




From open signs to beer signs to tons of different signage in between, neon signs are perhaps the brightest and easiest to maintain signs available in New York City today.





An outstanding way to make sure that your property is used efficiently, window wraps turn your window into a clearly visible and large sign.

Hanging Signs/Blade Signs




Hanging business signs in NYC are perhaps the minimum required sign that businesses should have. But it does help to have a high quality sign that captures interest.

Yard Signs




These are best for real estate, landscapers, and others that work directly on a home or property. Did you know that we also provide real estate sign installation in NYC?

Billboard Signs




Perhaps the most well-known commercial signs in NYC, billboard signs are everywhere, and best for advertising important products and services.





Not all signs have to be right outside of the building. Our vehicle wraps are still an excellent choice for those that want people all around NYC to see their message.





Decals, like those with store hours, logos, and other important items, are arguably as important if not more so than large window wraps and other signage.





Very popular with car dealerships and accountants, vertical flags get noticed from the street. This makes them popular when attracting drivers, as well as for large buildings like industrial building signs in NYC.





Custom outdoor metal signs in NYC are an excellent way to get noticed. They are capable of drawing attention, showcasing colored prints, and can withstand most of the elements.

Wooden Signs




Though useful in almost any industry, the classic look of a hand painted wooden sign is excellent for hotels, restaurants, and any business that wants to add a little bit of class.





Outdoor vinyl signs in NYC may be used to advertise local events, announce grand openings, or otherwise make sure that you have a very affordable and large sign.





Though they have been often linked to trade shows, banner stands, chalkboard displays, and other folded types of signs can be placed outside during business hours to get those walking by interested in some type of service or product.

Pylon Signs




Popular with fast food and gas stations, pylon signs are placed high in the air and can be seen from cars and freeways from a great distance.
This does not even include outdoor changeable letter signs, scaffolding and construction signs, or the many custom outdoor signs that can be created using nothing but your own imagination. One of the things that make signs so great – and why it is so important to work with a highly effective sign fabrication company – is that the only real limits to the types of signs that you use for your business are what your imagination can come up with.
For your own outdoor sign to start drawing attention to your business, make sure you contact Brooklyn Signs today.
---
It might seem that event signage is the most basic among all of the event details. However, you might find it surprising that it is entirely wrong. One small error and the entire attendee experience will go down the drain.
The lack of a concise and clear signage to direct and assist attendees to find out what they need will make the event chaos.
It isn't necessary for the signs to be functional, however, their good visual nature; it provides extensive opportunity for brand promotion and even sometimes your sponsors.
Before you go on find out how you can wow your fans with corporate event signage, let's see why you need a corporate event signage, banners & graphics.
Selecting a Good Corporate Event Signage
One of the biggest advantages of a good corporate event signage is that it provides the ability for your business to brand the particular location where the event or conference was held. Also, it keeps your customers and partners focused on your company while the event is going on, thereby providing them a certain kind of trust on your brand.
Sometimes your firm will be struggling to work hard to complete the given marketing deadline in this quarter. Don't worry! With corporate signage, you can accommodate any kind of budget.
Most corporate event signage providers provide signage alternatives like hanging banners, retractable banners, foam board signs, removable vinyl graphics, table throws, etc. Interestingly, each of them can be used again and again for many years.
Many of the custom markers will allow visitors to be aware of your services, top-selling products and history of your business.
The compelling text and imagery will assist you in achieving this goal. By using various signage applications, you can bring in an environment of branding for your corporate parties and events.
Assisting Individuals in Finding Their Way Around
Most of the company events are held with the basic aim of bringing individuals from various parts of the firm together.
Now this consists of existing and prospective clients, employees, and even the front office worker. So, if you really want to keep a track on the events that are happening, it is necessary to have a clear and coherent visual communication. Yes! You need to have a good signage to aid your attendees.
Best Corporate Event Signage – To the Rescue
Whether you want to welcome your attendees, or you are planning for sponsorship or marketing activities, or trying for brand recognition at an exhibition or trade show, event signage provides you an organized and systematic feel. This helps your attendees know that they are in good hands.
Now rather than going for traditional signage, it might be better if you go for innovative ones which can really brighten up your marketing tactics and can be good one in your arsenal. So, let's check some of them:
1) Interchangeable Registration Booths
One of the best things of event registration is that you can make use it to ensure that the signage is properly seen, especially from the official welcome zone. This is best for sponsorship and marketing opportunities.
Also, it is best place where individuals hang around and even sometimes queue. No doubt, branded registration booths gives a great opportunity for interchangeable signage. Now if it is multiple events, you do have the option to modify the design for various days so that the welcome becomes extra special.
2) Floating Signage
Sometimes you might not have this option, but if you do have, try to make use of the fountains, pools, and water feature with the floating signage.
Of course, you can go for something like an event or brand name. Even you can go with an event or theme ethos. Sometimes, you can opt for adaptive signs, as these have solar powered lights and it can easily make the transition from night to day special as well as noticeable.
3) Marquee Signs
If you are looking for something which is photo opportunity favorite, then you can try the marquee signs. They come in various sizes, including the huge human-sized one. These are commonly bright (always lit) and are great for events which transition from day to night, or even in low lighting conditions. Also, they can be put anywhere so that it can blend in along with the decor.
4) Badges
Do you know that at every exhibitions and conferences, passes and badges can be a great signage opportunity? Each attendee will be having one and wears it during the event. So, there are various opportunities for gate crashing event photos.
In addition, this can be a great sponsorship option which can be added in the package, especially for the badge having lanyards.
5) Vehicle Wraps
No doubt, vehicle signage can be a great assistance for promotion and marketing before an event. Also, it makes sure that individuals are in the right place, especially for the live event. Now by using quirky automobiles like cars, buses or modified and luxury cars will easily bring in a buzz along with providing the required options which can be sponsored.
6) Light Up Tubes

The best part of lighting effects is that it brings in an impact to your event. So, incorporating a signage in it will be a great opportunity. Even though the tubes are tiny, still they are quite effective and can easily used as a part of the walkway, event entrance, or sometimes dotted around the room for creating an effect.
7) Banner Flags
These are quite famous at outdoor and sporting events. You can fix a flag into anything, making it highly adaptable and easily secured to the backpacks of stewards or runners. This will make them a walking mobile signage. No doubt, custom flags will stand out among the crowds and bring markers so that individuals can recognize it and get more brand recognition.
8) Furniture Signage, Displays & Table Throws
Do you know that your event branding along with the attendee comfort is a great winning combination? So, it means those whether you sign the table tops, has printed chair signage or go for rustic along with a DIY board fixed to furniture, either way it is the major opportunity which shouldn't be avoided.
9) Post-It-Notes
If you are looking for a low-cost and fun option which can make heads turn, then post-it-notes is the best thing. These so-called variety-color post-it notes will have their own impact. Also, it will help attendees to communicate their thoughts on a given note, which is a part of the networking game or any kind of participatory event, which can contribute to the same wall in the next event.
10) Neon Signs
No doubt, colorful neon signs bring a small nostalgia when you are designing a good signage effect. Of course, this can be on a costlier side as it must be commissioned for your event, however, huge neon signs will create a powerful impact and even a good photo opportunity.
11) Chalkboard Signs
Among the various favorite budget ideas, chalkboards are the ones that provides an interesting effect and is simply contrasted with various kinds of color chalks.
As these kind of signage are increasing in terms of popularity, it looks stunning and fantastic when a calligraphy is added with it. Also you can make it permanent by various paints for creating varied effects.
You also have the option to go with this signage idea by putting it in a frame of a stand and making it look like some easel.
12) Coroplast Boards
One thing you should never underestimate is the traditional signage options. These coroplast boards are quite simple as well as effective and even mobile.
Your staffs can carry it around as they are quite light. Also, they can be put at the entrances and even at the key points along with instructions and way-finding options to assist guests.
13) Glass/Wall Vinyl Decals
You can use decals or vinyl stickers on the walls to fill in the empty space, and temporarily convert your venue into something unique and beautiful. Also, it creates a lighting effect as the sun shines, when the sunlight passes through them and even extends to the floor and combines with the interactive floor signage.
14) Graffiti Walls
Not many people know that graffiti are one of the expressive and artistic method of gaining attention. These can be used on temporary booths and walls, thereby accommodating modern artwork.
In addition, you have another less minimal option, which is create a digital graffiti wall that not only provides the sponsorship or signage chances, but even encourages active participation too.
15) Staff
If you have volunteers, staffs or any facilitators at the event, you can provide branded or signed T-Shirts to wear. These can easily be one of the most powerful signage tools for both sponsorship and marketing.
Having an excellent staff means providing fantastic services and when they are wearing the branded or logo-designed clothing, it is like having various event ambassadors at the spot.
Conclusion
Corporate event signage can be a great means of marketing your products and services. It helps in guiding your attendees to the exact spot where you want them to be and provides the required information regarding your business. Of course, there are various high and low-cost corporate event signages, and you must choose them based on your budget and need.
You can contact Brooklyn Signs at info@upepe.com/brooklynsigns to Get a Free Instant Quote of Signage for your corporate events.
Nowadays, if you check out most of the wraps on the road, you might feel that the concept of creating and designing an easy-to-read and simple message will be difficult to comprehend.
Frankly, it isn't unless you know the basic fundamentals that take to create a good and interactive wrap or fleet graphic.
Do you know what is the characteristics of a good vehicle advertising and wrap design? It is nothing but the proper usage of branding and easy to discern messages. Surprisingly, these are rarely used on many of the vehicle wraps that are seen today.
Now this explains why most of the wraps and fleet graphics fail from the advertising standpoint. Sadly, it is a waste of opportunity for the business for deploying them.
Frankly, this can be due to the lack of understanding and education regarding the actual medium.
Previously, the prerequisites for truck lettering artist and billboard painters were years of apprenticeship and studies.
But nowadays, mastering the craft is a little bit easier as the major barrier for entry is to get the finance for purchasing a huge format digital printer.
So, it means that even though the wrap or sign firm might end up being good at installing wraps, still they may be lacking the needed experience in studying the effectiveness of advertising, especially in the outdoor realm.
Understanding A Good Wrap And Vehicle Advertising
There are certain rules that you might need to know to have a better understanding of the fundamentals needed for a good vehicle advertising and wrap design.
So, irrespective of whether you are a designer who is hoping to make improvements in terms of layouts or if you are a small (or upcoming) business owner trying to get a market share, the below tips will help you to make maximum impact and bring returns on investment for your outdoor vehicle advertising.
1) Brand Identity



Do you know one of the major reasons why wraps fail in terms of marketing perspective? Well, it is because the business has a poor brand logo and identity.The primary message for a vehicle wrap is brand unless you are having a national brand recognition.Now for small businesses who are trying to make an impact in their community, the major message is about branding.So, if you are going to start with a poor branding procedure, then you have failed before starting. In this case, wasting your money and effort is a huge marketing loss.

2) Avoid Using Extra Images



There are less effective wraps who use photos but a wrap that doesn't use photos will be more effective.Keep in mind that the photo is not a brand identity and it won't connect you with the business name. But it can connect you with what the company does, which is what good brands does.
3) Try To Limit The Advertising Copy



Do you know that there are certain things which a good wrap will need? It goes down to three or four things – robust brand implementation, tagline messages, phone number and web address. If you plan on using bullet list, it will simply look like a shopping list, and isn't something that can be placed on a vehicle.Frankly, this isn't a yellow page. See would you want to list ten things and have nothing to remember or you want to convey one or two memorable takeaways.Now if your truck was a billboard, how many copies will be on it. Do you know that the billboards have the same challenges like vehicle advertising? So, if you are prioritizing your copy, it can be more effective.

4) A Design To Not Fit In But Stand Out



Many individuals might feel that carbon fiber, diamond plate, tribal flames can make your truck warp stand out.Now quite to the contrary, simply by eliminating these fills, bevels, noisy backgrounds, photos, and glows you are on the track of designing a wrap which simply stands out.

5) Simple And Obvious Is Good



Now if the viewers or onlookers take a lot of time to figure out the primary brand messaging, then it is nothing but opportunity lost.Here, the medium is not the same as a print design where viewers can stop, then absorb the advertising and try to understand the message. Always consider what kind of primary takeaway are you hoping to leave for the viewer.A lot of questions will pop up. What is it? Will the wrap effectively communicate it? Will it be lost in the imagery? Can distance legibility be the major course? Keep in mind that you have limited time to capture the attention of viewers and even with message and brand which needs to be remembered and understood.
6) Being Cost Effective



Unlike advertisements and billboards, which have recurring costs as long as you advertise, you can modify your vehicle wrap design a little or more often.All this at a low price or investment. Plus, you can make the initial investment just for a fraction of the cost when compared to the long-term advertisements and create results for years.
7) Protection



Do you know that a good vehicle design or wrap can protect the body of the vehicle from scratches and small dents? You can utilize the services of a specialist to remove the vehicle wraps without causing any damage to the vehicle's paint.
8) Being Flexible And Planning For Contingencies



Now an important aspect you need to keep in mind is that graphics companies and vehicle manufacturers will regularly cycle their inventories, so, it means that the same graphics and vehicle package might not be available the next year or in the upcoming years.Also, if the vehicle was involved in an accident, then the repair process will entail the warp replacement or decal.So, make sure to work with the fleet management firm to discuss the policy regarding temporary or alternative template.

9) Inventory Management



Now optimizing the vehicle inventory is one of the critical tasks and it is even more if the vehicle is branded one. So, you need to anticipate the fluctuating volume needs without incurring any surplus.No doubt, having less branded vehicle in your feet can reduce the value which branding can bring to the organization.
10) Commercial Plating



In most of the states, there are certain restrictions on vehicles which need certain kind of branding and decaling.So, you need to make sure that the fleet management firm has the processes in place so that it can plate all the vehicles present in your fleet.Also, certain jurisdictions have certain kind of restrictions on how commercially or branded plated vehicles can be used.
Conclusion
Many of the branded companies spend a huge amount of dollars for promoting the awareness about their services and products.
Plus they lookout for new tactics for broad corporate messages like safety, sustainability, community services, etc. Now your fleet vehicle can be extremely effective and cost-effective for conveying various messages to the public.
So, just think about how branding in terms of fleet Graphic & wraps can bring out. It will surely rock and create a brand for your product and services.
Do you know that a good outdoor signage must have three functions? These three functions are attracting customers, display the required information and enhance the brand image.
All these can be achieved by using channel letter signs and there are more benefits it provides. No doubt, channel letter signs are the superior signage choices for all kinds of businesses and even for sign makers.
So, if you are planning to use one, then you are definitely on the right track. The following are the benefits you are going to get from this awesome signage –
Being Noticeable From Long Distance



Compared to other signage, channel letter signs can be recognized from a long distance. This is especially viewable when displayed against solid color and matching background. Keep in mind that the rule of thumb of a channel letter sign is that the size of the letter must be at the rate of about 1.5 inch in height and that too for every 25 feet of visibility.

Cost Effective & Cheap



From a simple to custom LED illuminated designs of a channel letter sign, each of them attract various potential and regular customers. Frankly, these on-site signs will be quite effective to motivate customers who are coming to your store, especially when you place them at a reasonable distance.Unlike the radio and television, these on-premise signs will easily advertise your brand creating a repeated impression. All this is achievable at a fraction of cost compared to the traditional media method.

Beautiful And Interesting Appeal



Now you would want a business sign which is quite appealing. With regard to the channel letter signs, they have a magnificent allure. This never fails to mesmerize any visitor who sees your hoarding or sign. Plus the aesthetic appeal of such signage will provide the capability to make your business just stand out among the crowd.

Efficient Energy Saver



If you are planning to make your business go green, then it is a great idea. With the usage of channel sign, your business can be environmental friendly, which means you can conserve a lot of energy and save tons of money. Furthermore, these signs are quite energy efficient, so it means they will consume less energy, making it environmental friendly. Plus, the added advantage of having a longer lifespan and in case of any kind of repairs, being breeze, makes it a hot choice for businesses.

Enhancing Brand Image



Now as a business, you need to believe in the concept of 'first impression is the last impression' and it is something that most businessmen believe in. A business signage has the capability of creating and breaking the interest of a customer. An attractive and good quality business signage will build positivity and create trust on the minds of the customer. This will make them remember your brand for many years.

Advantage Over Competitors



Being stand out among competitors is somewhat difficult, especially when you are in a competitive business. You can make yourself unique from other businesses if you have a good channel letter sign. An attractive channel sign will attract the attention of every customer who comes for business enquiry and make them propel to see what you kind of business and service you provide.

Being Bright And Efficient In Cold Climate



Weather plays a great role in effecting your business, and if it snows, then you are definitely going to have a tough time in presenting yourself. Most business signs get hidden among the snowy flakes and the mass of snow. The LEDs present in the channel letter sign are extensively bright and makes it stand out in the snowy winter. So, you don't need to worry about removing or cleaning the snows that fall on them.

Popular Among Recognized Brands



Most of the high-profile brands like to use the channel letter signs, as it makes them look more unique and standard. It creates a brand image where the business is high-class and one that is interested in providing quality services and products. So, it is not quite surprising to see that recognized brands using such letter signs and making you one of them.

Provides Variety of Designs



The best part of using channel letter sign is that you get various design options, not to forget, the variety of colors and sign cabinets are some of the best advantages and features of the channel letter signs. Channel letter signs are individual letter which are mounted on a structure and the materials used for fabrication are aluminum and plastic.

Excellent Visibility At Night



Sometimes you need to market your business name and features at night. See, if you are a hotel or a bar owner, it is really great if you can advertise your business at night. Frankly, you are bound to get more business at night from weary travellers and commuters. In such cases, you can use the channel letter signs which provide excellent visibility at night.
Wrapping Up
With humungous advantageous of the channel letter signage, no doubt it is gaining a huge momentum. So, as a business owner, it is great if you could consider purchasing channel letter signs for enhancing your business' image as well visibility.
It's small, it hangs above the heads of most potential shoppers, and it is used by almost every retail and professional business in New York City and across the United States.
Yet despite how common it is to see them, it is often the most important tool you have for building your business.
We're talking about outdoor blade signs – a type of thin hanging sign that two sided and flat, like a blade. Some people simply call them exterior hanging signs.
No matter what you use to describe them, these signs are a critical tool in attracting potential customer sot your property.
At Brooklyn Signs, we have the custom hanging signs that your business needs to thrive. From decorative hanging signs (including engraved hanging signs) to logo blades and more, Brooklyn Signs can create nearly any type of sign available, so that you have the tools you need to get people to your property.
What are Outdoor Hanging Signs?
Outdoor hanging signs/outdoor blade signs are an important flat sign that gets people to see your business, what it offers, and where it is located.
As potential customers walk by, they are looking for the signs to see things like:
Who you are
What you offer
Where you are
Some companies, especially those popular for their brand, need to do only a logo, and they can attract hundreds of customers every day.
Others need only a word, like "Coffee", and suddenly their storefront is filled. Certainly there are many different design ideas available.
But whatever you choose to do, it becomes important to have an outdoor hanging blade sign to do it.
Whether you need a hanging sign for your store front, restaurant, or company, a blade sign is a necessary tool.
Materials Available
You'll need to have one of these signs available. But just because everyone uses these signs doesn't mean that you can't express your company's individuality.
There are many different ways to create these signs to make your company look even more unique.
Materials available include:
Wood (Including Hand Painted and Carved)
Aluminum
Illuminated
Non-Illuminated
There are hanging wood signs, metal hanging signs – even hanging neon signs, which capture attention very quickly.
All of these hanging signs for businesses in New York City and beyond have a powerful impact on customers that view them.
Knowing which sign material you want best is the first step towards choosing the one that matches your brand.
Color Options Available for Blade Signs
One of the advantages of the wide variety of materials and prints possible with these wholesale hanging signs is that there really aren't many rules when it comes to which type of sign to consider.
For example, here at Brooklyn Signs, we can print Pantone and match any PMS color. We can also alter the color of the material itself.
In many ways, there is no such thing as a "color option" because all colors are amazing on these blade signs.
The question is simply which sign will both grab attention and provide a look that enhances your brand.
Sign Ideas and Choices for Hanging Signs
It is because of the multitude of options available for hanging signs that your next step for choosing the one that is best for you is specifically based on what matches who you are and what you need.
Everything from the vision you have for your company to your perpendicular sign bracket ideas all play a role in the different types of hanging signs worthy of consideration.
For example, perhaps you want your sign to literally (not figuratively), pop. You can choose an outdoor hanging sign with raised letters.
These types of hanging blade signs have a natural 3D quality to them that instantly captures attention.
Perhaps you'd prefer flat and traditional hanging signs, or maybe it's not the sign that you need – maybe you're considering a hanging sign with chains, or a wrought iron brackets for your hanging sign.
As you can see, the question is not necessarily what is available, because the answer is "almost everything."
The question is really "what are you imagining?" Because if you can envision it, all you need do is ask for it and chances are we can create it.
Benefits of Outdoor Hanging Signs
With all of that in mind, why would you even want a hanging sign to begin with? What makes a hanging sign such an important part of your business? The following are some of the many benefits of hanging signs:
Seen from the Street

The single greatest benefit of these signs is that they are able to be seen from the street. Normally, when someone walks on the sidewalk in NYC and beyond, they are focused on what's in front of them to make sure they are not going to run into anyone. They are not necessarily looking at every building they pass to see if it's something they want. These signs are directly overhead, making it possible to look up and notice your company.
Clearly Visible

Hanging blade signs are easy to find. If someone IS looking for you, they can see your sign from down the sidewalk, even if they are not yet near your store. This tells them where to go, providing great customer service.

Memorable

These types of signs are important for branding. If someone sees it, but decides they do not want to be a customer, they'll still remember the sign for the next time they are in the area. They'll know where you are, who you are, and they'll be exposed to your brand even if they do not realize it.
All of these are some of the many benefits of outdoor hanging signs. They have long since become a necessary and important part of the modern business landscape.
Hanging Signs Inspiration
---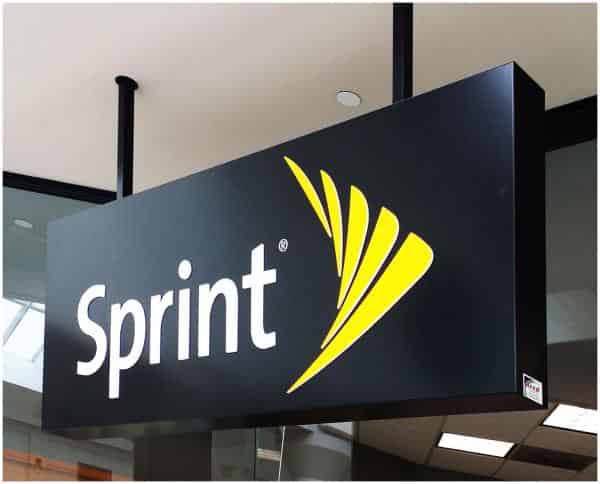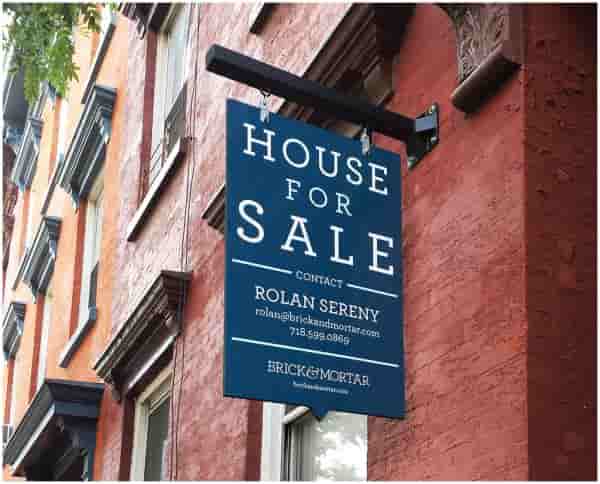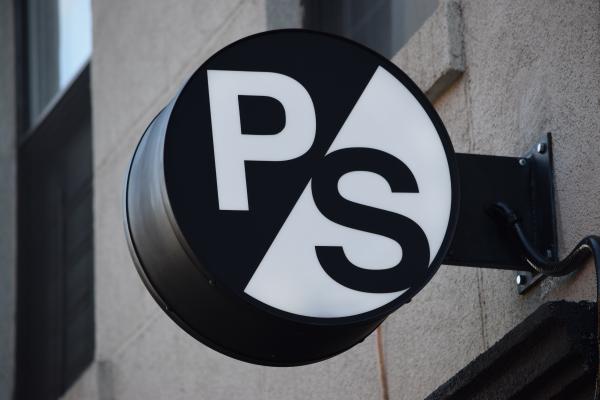 Outdoor Hanging Business Signs FAQ
It's not uncommon to have questions about hanging signs, and we're here to answer them. The following are some common outdoor blade sign FAQs.
Can Hanging Signs Come in Special Shapes?
Yes, absolutely. While the rectangular blade may be common, often we can cut very special shapes out of most sign materials. We'll need to make sure that the design can still hang, but otherwise there are many different and effective options.
Do I Need Any Special Permits?
Most hanging signs require no special permits. The only exception is if your hanging sign is over 6 square feet. Then a special permit may be required. These permits are often easy to obtain, however, and we have experience making sure that they are acceptable.
Are Lighted Hanging Signs Safe?
Yes, absolutely. All of our outdoor hanging signs are designed to be used outdoors. We do have local installation available as well for those that need it. We highly recommend you contact us if you think your sign would be at risk for rain, however.
Frosted Window Films NYC is designed to be directly applied to your existing glass for adding a logo for branding purposes, for creating privacy or as a contemporary marketing campaign as well. Since frosted window films are affordable, and require little maintenance apart from usable not only on windows but also appropriate for doors and other glass as well.
The frosted window decals are not limited to the single designs or appearance but also available in several types to accommodate your needs. One of the commonly used window films is Frosted Window Films that have numerous benefits that can convince you to use it. Here is worth mentioning the benefits for frosted window decal. The opaque wall decals are excellent for providing you privacy and allowing the light to enter into your space. The frosted wall decals are semi-permanent decals and can be repositioned for adjustment.
Add Level of Privacy
You can Give your office or a high level of privacy will naturally enhance safety and prevent extra light from entering your space. Additionally, this window decal can also make your interior space more cozy and comfortable to stay. There are some types of frosted window film that are virtually impenetrable even for sunlight if you wish you to block scorching heat.
Enhance Security
On the top of that with these frosted decals, you can add a level of security to your windows with this so block the inner view. This blockage of view offers more security towards your store or office.
Add Décor to your Space
Frosted window film is opaque and resembles sand bathed surface. You will be amazed to know that there are multiple patterns and shades available to alter your window into perfect décor medium. It's totally depending upon your choice whether you go with a classic white frosted effect or like a stained glass effect.
On the top of that Applying frosted window decal is much easier than replacing the whole windows and this procedure takes much less time. Your store front window can have an entirely new look in a couple of minutes when you apply these window decals .it's a real the wise decision to opt with frosted window film as your window treatment.
Trigger Business Marketing
window decals have been the great ideas for promoting business and showcasing any idea. In addition, many corporate leaders and business owners even special order window decals with their company name and logo embedded for a truly custom appearance for promotion.
Comfortable Inner Space
Here is another triggering benefit with frosted window film, natural light can enter your space and block UV rays from penetrating your space. This generates soothing and healthier surroundings for your staff and clients. It will also help secure your office interior that can be damaged by harmful UV rays or harsh sunlight. With Frosted decal film also adds a layer of insulation to control and maintain the optimum temperature in your space. The overall heat is reduced.
Different Types of Trending Frosted Window Vinyl:
Frosted Privacy Film
This is our most famous window film. It gives elegance without any interference of inner view. It provides you maximum privacy while still allows the light in inner space. Frosted Film provides the most privacy than any other window film. Typically this window film is Ideal for residential and commercial locations to ensure privacy.
Crystal Window Film
This window is just like any other normal privacy window film except it has a glittery sparkle finish surface. The crystal effect is difficult to see but when the sunlight crashes with the window film you a distinctive sparkle in the window frosting looks more obvious. Commonly this window film is used by professional corporate leaders.
Etch Window Film
This window film is considered ideal for adding a frosted look to the window without changing the whole window to get this level of privacy. Well, it can be preferred for indoor or outdoor use, primarily rendered for privacy matters with some decorative medium. Although this window film differs from the standard glass etch, is that is has the air flow channels on the backing to allow easy adhesive and reduce the chance of bubbles formed by applying it on the windows.
Low Opacity Window Etch Film
This window film can be used to create a privacy screen to internal and external storefront windows. This etch has a white frost finish and is preferred designed to be used on store windows to uphold the image above it to enhance beauty with less frosted level. Generally, it is applied to completely blur vision and stop people seeing into your interior space.
Why Choose Brooklyn Signs?
Brooklyn sign brings you the huge range of window films and Office Window Frosting Brooklyn that will boost the advertisement. Our sign company in NYC is committed to the excellence of their products. Our Brooklyn sign agency is so popular and renowned in the borough of New Jersey and island Staten. These better-suited frosted window films NYC and decals can be used for branding purposes for logo promotion. Our team will guide you thoroughly that which kind of wall murals will perfectly match with your business
Window decals are an outstanding way for using every inch of the window for marketing of business. Window decals are vinyl stickers may be placed on the edge of windows with the brand logo on it. Window decals NYC retain adhesive properties and adhere to the window without damaging them window decals can be reapplied and can easily be removed from a window and re-applied to another surface without losing any of their adhesive properties.
These Window decals are not limited to the small cut out designs but also available in large size referred as window murals. The window decals hat are meant to stick on windows are called window decals NYC these are made on custom demands with different shapes.
Here are some types of window decals are listed below
Clear Window Decal
This clear window decal looks great on the window of the store and its best quality is that it does not affect the outer view. So while using this clear window decal your outside view remain the same and doesn't block the two-way visibility of viewers. These are semi-permanent window decals that can be repositioned whenever you want.
Common sizes available sizes: 12″x12″, 24″x12″, 2″x2″, 4″x4″, 3″x5″
Opaque Window Decal
The opaque window decals are also referred as frosted window decals. The opaque window decals are excellent for providing you privacy and allowing the light to enter into your space. The frosted window decals are semi-permanent decals and can be repositioned for adjustment.
Common sizes available sizes: 12″x12″, 24″x12″, 2″x2″, 4″x4″, 3″x5″

Perforated Window Decal
The perforated window decal offers a one-way view and made up with high-class film and has small holes in it. Perforated decal is also semi-permanent cling and can be repositioned multiple times without losing its adhesive property.
Common sizes available sizes: 12″x12″, 24″x12″, 2″x2″, 4″x4″, 3″x5″
Static Cling or Static Window Decal
The static window decal is made up with smooth vinyl can offer a view from both sides of the window. These can be peeled off when it is needed can be reapplied on the window. Although the static clings are the temporary type of window decals and don't have any adhesive property they stick to the window through their inner static charge.
Common sizes available sizes: 12″x12″, 24″x12″, 2″x2″, 4″x4″, 3″x5″
Die-Cut Vinyl
These window decals or window clings are die-cut to give desired custom shape to them. If the vinyl sticker has a complex shape or its logo is not prominent then vinyl-cut is the best procedure to give appropriate shape to the vinyl decal. Here are two common types of vinyl-cut

Shape Die-Cut
In this shape Die-cut, the sign will be cut according to the shape of the actual design with a small border usually around ¼ to 1/2 left around the perimeter of the sign.
Exact Die-Cut Decals
In this exact Die-cut, the design of the sign will be cut exactly to the perimeter of the actual sign. The most important thing to remember here is that if your sign is all text that you will get vinyl lettering in return that your each vinyl letter or design will be separate from each.
Well Reputed Decal Film Manufacturing Companies in NYC

Here is the list of the leading film manufacturing companies in NYC
New York film and CO.inc
It is a well-reputed company in film making and offers six different series of film on the requirements of use and functionality.
1 – EnerLogic
The latest in window film technology is excellent film for outdoor use and doesn't fade for single or double panel window.
2 – Spectrally-Selective Film
This film is invisible but can beat the heat of summer and block the ultra violet rays from entering your space.
3 – Duel-Reflective Films
This film is very outstanding for reflective surface while it blocks the rays of the sun and good for outdoor use for heat rejection.
4 – Neutral Films
This film is preferred to maintain the moderate temperature in the area and it is mostly used in showrooms and outlets.
Low-E Films
This fil is preferred in those areas where the climate remains cold and heat of Sun is required to maintain inner temperature.
Decorative films solyx
It is decorative film producing companies and manufactures static adhesive cling on a commercial basis for decals.
3M™ Fasara
It is a decorative film finish for decals and preferred for decorative purposes or used as promotion of the logo and for privacy purposes of space.