Step by Step Guide on How to Choose Right outdoor Blade Signs for Your Business
September 22, 2017
It's small, it hangs above the heads of most potential shoppers, and it is used by almost every retail and professional business in New York City and across the United States.
Yet despite how common it is to see them, it is often the most important tool you have for building your business.
We're talking about outdoor Blade Signs – a type of thin hanging sign that two-sided and flat, like a blade. Some people simply call them exterior hanging signs.
No matter what you use to describe them, these signs are a critical tool in attracting potential customer sot your property.
At Brooklyn Signs, we have the custom hanging signs that your business needs to thrive. From decorative hanging signs (including engraved hanging signs) to logo blades and more, Brooklyn Signs can create nearly any type of sign available, so that you have the tools you need to get people to your property.
What are Outdoor Hanging Signs?
Outdoor hanging signs/outdoor blade signs are an important flat sign that gets people to see your business, what it offers, and where it is located.
As potential customers walk by, they are looking for the signs to see things like:
Who you are
What you offer
Where you are
Some companies, especially those popular for their brand, need to do only a logo, and they can attract hundreds of customers every day.
Others need only a word, like "Coffee", and suddenly their storefront is filled. Certainly, there are many different design ideas available.
But whatever you choose to do, it becomes important to have an outdoor hanging blade sign to do it.
Whether you need a hanging sign for your storefront, restaurant, or company, a blade sign is a necessary tool.
Materials Available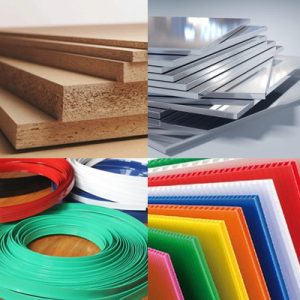 You'll need to have one of these signs available. But just because everyone uses these signs doesn't mean that you can't express your company's individuality.
There are many different ways to create these signs to make your company look even more unique.
Materials available include:
Wood (Including Hand Painted and Carved)
Aluminum
Illuminated
Non-Illuminated
There are Hanging Wood Signs, Metal Hanging Signs – even hanging neon signs, which capture attention very quickly.
All of these hanging signs for businesses in New York City and beyond have a powerful impact on customers that view them.
Knowing which sign material you want best is the first step towards choosing the one that matches your brand.
Color Options Available for Blade Signs
One of the advantages of the wide variety of materials and prints possible with these wholesale hanging signs is that there really aren't many rules when it comes to which type of sign to consider.
For example, here at Brooklyn Signs, we can print Pantone and match any PMS color. We can also alter the color of the material itself.
In many ways, there is no such thing as a "color option" because all colors are amazing on these blade signs.
The question is simply which sign will both grab attention and provide a look that enhances your brand.
Sign Ideas and Choices for Hanging Signs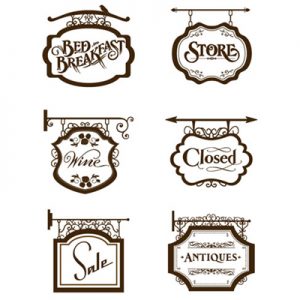 It is because of the multitude of options available for hanging signs that your next step for choosing the one that is best for you is specifically based on what matches who you are and what you need.
Everything from the vision you have for your company to your perpendicular sign bracket ideas all play a role in the different types of hanging signs worthy of consideration.
For example, perhaps you want your sign to literally (not figuratively), pop. You can choose an outdoor hanging sign with raised letters.
These types of hanging blade signs have a natural 3D quality to them that instantly captures attention.
Perhaps you'd prefer flat and traditional hanging signs, or maybe it's not the sign that you need – maybe you're considering a hanging sign with chains, or wrought iron brackets for your hanging sign.
As you can see, the question is not necessarily what is available, because the answer is "almost everything."
The question is really "what are you imagining?" Because if you can envision it, all you need do is ask for it and chances are we can create it.
Benefits of Outdoor Hanging Signs
With all of that in mind, why would you even want a hanging sign to begin with? What makes a hanging sign such an important part of your business? The following are some of the many benefits of hanging signs:
The single greatest benefit of these signs is that they are able to be seen from the street. Normally, when someone walks on the sidewalk in NYC and beyond, they are focused on what's in front of them to make sure they are not going to run into anyone. They are not necessarily looking at every building they pass to see if it's something they want. These signs are directly overhead, making it possible to look up and notice your company.
Hanging blade signs are easy to find. If someone IS looking for you, they can see your sign from down the sidewalk, even if they are not yet near your store. This tells them where to go, providing great customer service.
These types of signs are important for branding. If someone sees it, but decides they do not want to be a customer, they'll still remember the sign for the next time they are in the area. They'll know where you are, who you are, and they'll be exposed to your brand even if they do not realize it.
All of these are some of the many benefits of outdoor hanging signs. They have long since become a necessary and important part of the modern business landscape.
Hanging Signs Inspirations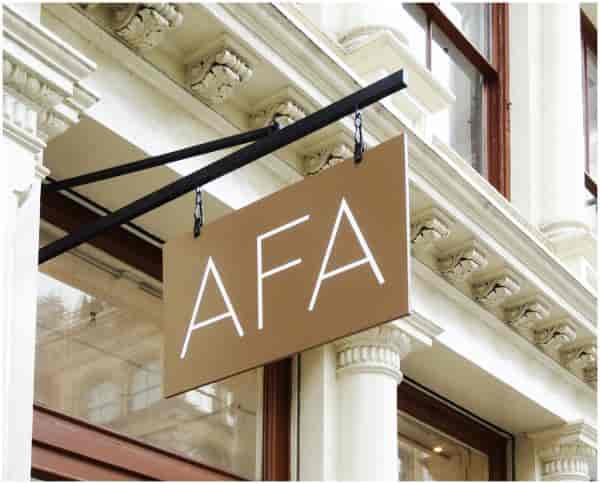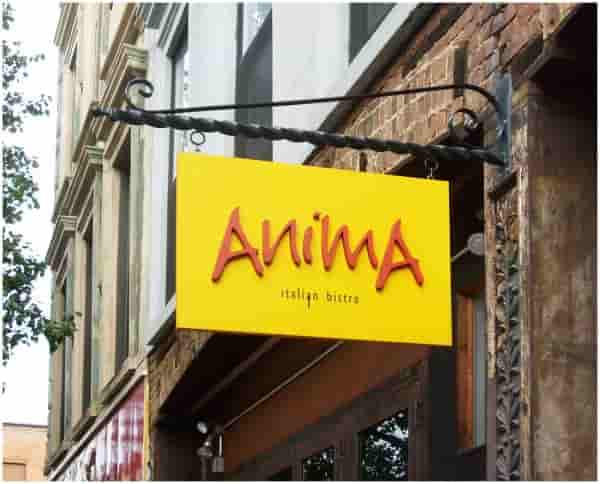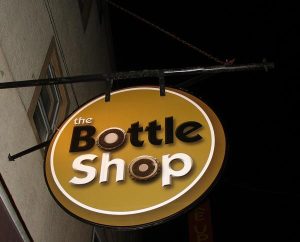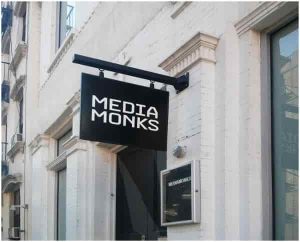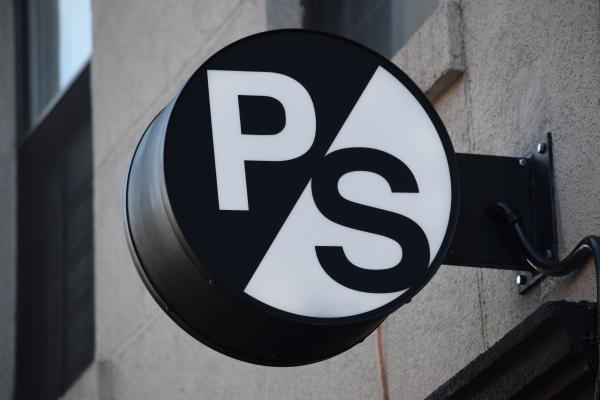 Outdoor Hanging Business Signs FAQ
It's not uncommon to have questions about hanging signs, and we're here to answer them.
The following are some common outdoor blade sign FAQs.
What is a Blade sign?
A blade sign is a sign that is projected on the storefronts or attached to the surface that is perpendicular to the normal traffic or is projected on the pole. These signs are a great way to attract customers to your business.
How do I know what type of blade signs will be best fit for my business?
You can note down the requirements that you would want in your signs from the color, material, and style to any other specific detail you would like in your sign. Then you can see which style fits your requirements best and get that type of blade sign made.
What material types are available for blade signs?
As these signs are exterior signs we have wood, metal and plastic materials that you can choose from as all of them are best for the exterior use.
Can you help me with my blade sign design?
Yes, we absolutely can. We have a team of professional graphic designers, we can connect you with them and they can help you design the best sign for your business.
Do you offer custom shapes and sizes in blade signs?
Yes, we do offer custom shapes and sizes for our blade signs. We have a variety of different sizes and shapes that you can choose from. But the standard size for the blade signs is 30″ to 50″ for a rectangular blade sign.
How Do I install my Blade sign?
You can install your signs by screwing it with the wall of your storefront or you can also get a special pole installed for your sign to be hung on.
How Can I Clean my Blade sign?
You can clean the blade sign with a soft brush and use a dishwashing solution with lukewarm water and then dry it with a dry nonabrasive cloth.
How long does the blade signage last?
The life of blade signs depend on the type of material that you have chosen, the weather conditions and how well you take care of them. They can last years if taken care of properly.